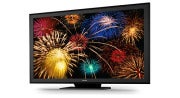 Of late, Sony has come up with a display technology which is known as Crystal LED. Sony officials has confirmed that with the implementation of this technology, the viewers will be able to get a picture with a very high contrast, excellent quality colors and a much improved response time. The viewer angle is also going to be much wider than the present LCD and plasma high television sets in the market.
This new technology was displayed by the electronics maker with a prototype 55 inches HDTV at the Consumer Electronics Show which is being held in Las Vegas. But Sony has not yet announced when the product is going to be available in the market. Nothing has also been mentioned about the pricing of the technology.
As per claimed by the company, picture contrast and color richness of Crystal LED screens is 3.5 times and 1.4 times higher respectively than the presently used screens.